Maintaining a cozy tiny house in a very cold climate can be done, but it presents some unique challenges. However, before you decide that you might be better off taking an RV down south, learn how the experts keep these small dwellings comfortable in winter weather that's as challenging as that in Alaska and Canada.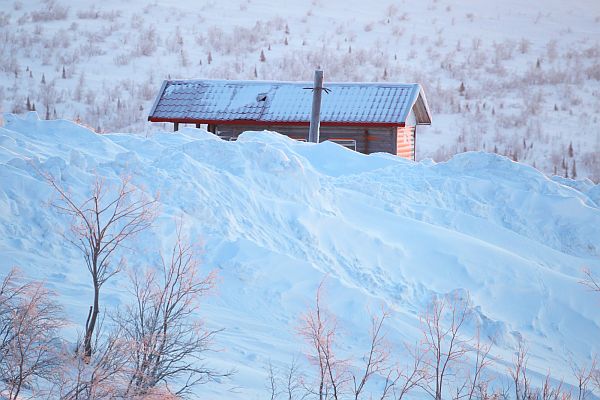 As an Amazon Associate, I earn from qualifying purchases. Some of the links in this article are affiliate links. This means that, at zero cost to you, I will earn an affiliate commission if you click through the link and finalize a purchase.
Insulation is Critical
When it comes to keeping these small houses warm, the small area of the home becomes both an advantage and a disadvantage. Having less area to heat helps. On the other hand, you don't have much room to install a very large furnace like you could in the attic or basement of a conventional house. That means your dwelling has to be as well insulated as possible.
These are some tips to ensure the building has the right insulation:
Consider vacuum-insulated panels with high ratings for efficiency
Install insulation in the walls, floor, and roof
Windows should be well sealed, and double- or even triple-pane windows are best
Doors should also be rated well for insulation and correctly installed with insulation and sealing
The Best Heaters For Tiny Homes
No matter how good your insulation is, you will need some source of heat in a very cold climate. Remember that the size of the home limits the physical size of the heating unit.
These are some suggested types of heaters to consider:
Passive solar heating
Radiant heating
Wood stoves
Electric heaters
Propane heaters
Of course, options may be limited by the source of fuel available. If you're living off the grid, electricity won't be an option unless you generate it yourself with sun or wind power. If you do have electricity, you might also consider adding a ceiling fan that can help send heated air through the living areas.
Compact Ventilation Systems
The solution to heating a small house is good insulation. However, sealing up a small area too tight brings other problems. Without proper ventilation, moisture from normal activities can make the air too humid and even encourage the growth of mold.
RVs usually have some sort of vents in the top. As with tiny houses, there's no room for a lot of ducts like there is in a larger house. However, a compact ventilation system is a better option than just having vents that open to the outside weather.
One option is the Lunos e2. This is a compact and efficient ventilation system that is very good about recovering heat and sending moisture out. This system is used in a tiny home that was specifically designed to stay comfortable in the Yukon, so it's likely to hold up during the winters where you live.
Plumbing Considerations
You won't have room for a large hot water heater. Unless you install your pipes internally, you also have a greater risk that they'll burst if they freeze. PEX piping is one product that's resistant to bursting if the water inside freezes. You might also wrap your pipes in order to protect them further.
Cold-Weather Maintenance For Tiny Homes
The final consideration is the design and typical maintenance of your tiny house in frigid weather. Typically, a sloped design is best because snow and melting ice is more likely to slide off. If not, you'll have to keep the roof swept off as much as possible.
None of this is meant to discourage people from enjoying a tiny home in cold weather. With the right insulation, heater, plumbing, ventilation, and design, these homes can be kept comfortable in climates as cold as Canada and Alaska. The advantage is the space is small so with the right design, heating should be economical.