Do you want the freedom to choose a tiny home refrigerator that fits your lifestyle? Are you ready to enjoy delicious meals without worrying about running out of space in your fridge? With so many options on the market, it can be difficult to know which model is best for you. That's why we have put together this handy guide to help you make an informed decision when selecting a tiny home refrigerator.
As an Amazon Associate, I earn from qualifying purchases. Some of the links in this article are affiliate links. This means that, at zero cost to you, I will earn an affiliate commission if you click through the link and finalize a purchase.
From understanding size and capacity requirements to comparing energy efficiency ratings, several factors are worth considering before settling on a particular model. Taking these into consideration will ensure that your new mini-fridge meets all your needs while providing maximum value for money.
Finally, don't forget about aesthetics! After all, the look of your appliance should match up with the rest of your living space – no matter how small or large that might be. So if you're looking for a way to control what goes inside your tiny home refrigerator and make sure it looks great, too – read on for our top tips!
Refrigerators For Tiny Homes
Choosing what will work best for your needs can be overwhelming with so many options. To simplify the process, let's start by understanding the different types of refrigerators available today and their advantages & disadvantages.
Conventional refrigerators are typically too large for a tiny home due to limited space, making them an impractical option.
Propane units have become increasingly popular because they're energy-efficient and require no electrical hookups.
Electric refrigerators offer more convenience as they don't need fuel but are often not suitable in size and capacity compared to traditional appliances.
Absorption-style refrigerators generate from propane or natural gas instead of electricity, while high-quality propane models like house propane refrigerators offer much greater efficiency than standard ones.
For those with limited space inside their homes, space-saving refrigerators in basic shapes, such as cubes or rectangles, could also be a great choice.
Whatever type of refrigerator you decide on, always prioritize quality over price since getting a standard refrigerator may save money initially but cost you more in long-term repairs and maintenance fees. Now that we've discussed the various types of tiny home refrigerators let's move on to how to determine what size you need.
How To Determine What Size Is Needed
When deciding which tiny home refrigerator to buy, it's important to consider the size. Mini refrigerators are great for smaller spaces and easily fit in an apartment or RV.
Propane-powered refrigerators are even tinier but usually lack features in other fridges. Compact fridges may be slightly bigger than mini models but still offer plenty of food storage without taking up too much space. If you have a bit more room available, then a standard full-size fridge might be best.
Consider the overall dimensions of your desired-sized refrigerator and its capacity needs.
Consider how many people will typically use it and what kind of food items you plan to store. It's also beneficial to measure the exact area where the fridge will be placed so that you know exactly what sizes of appliances can fit comfortably within the allotted space.
By considering all these factors, you can narrow down the selection process and find a suitable option that fits your lifestyle and budget requirements. This way, when shopping around for a new fridge for your tiny home, you'll have already done detailed research and can make an informed decision that works best for you!
With careful thought in choosing the right type of refrigerator for your tiny house, you'll ensure maximum satisfaction with your purchase now and years later.
Types Of Tiny House Refrigerators
When choosing the best tiny home refrigerator, several factors must be considered. The first is what type of fridge you need for your space and lifestyle. A few main types of refrigerators are available, from full-size fridges suitable for larger homes to more efficient options that can fit in even the smallest spaces.
Propane fridges offer an excellent option for those looking for a tiny house refrigerator that doesn't require external or alternative energy sources like solar panels. Propane fridges provide fresh food without electricity, making them ideal for off-grid living. They also have extra storage shelves and adjustable temperature settings to keep things organized and maintain optimal temperatures.
Traditional refrigerators are still popular among tiny house owners, as they provide ample space while being relatively low maintenance compared to other appliances.
However, if you want to maximize efficiency in your small space, warehouse appliance stores may have great deals on compact yet efficient refrigerators that don't sacrifice quality or performance. These models typically run on electric energy but can be paired with alternative energy systems, such as solar panels, to make them completely off-grid friendly.
No matter which type of tiny home refrigerator you choose, it's important to remember that these essential appliances should last a long time and work well to truly benefit your life and freedom. With careful consideration and research into each type before purchase, you will find the perfect model for your needs!
Off-Grid Or On-Grid
Off-grid refrigeration typically involves propane-powered tiny house refrigerators that provide a reliable source of cold storage without any need for power utility hookups. These units are usually enclosed in a cabinet with easy access controls and have minimal noise output. They are also incredibly energy efficient due to their design and do not require additional ventilation from outside sources.
On-grid refrigerators, however, rely on electrical hookups for power and must be installed within close proximity to an outlet. Although these models may take up more space than their off-grid counterparts, they offer greater flexibility in terms of size and capacity as well as features like frost-free capabilities.
Additionally, solar power can supplement grid electricity, so you don't have to worry about running out of juice during the day or night.
No matter what kind of refrigerator you choose for your tiny home, make sure it's designed with space-saving appliances in mind, such as adjustable shelving, deeper drawers and other energy-efficient units that will help conserve resources while providing ample storage options.
Direct Cool Or Frost Free
When deciding between an off-grid or on-grid tiny home refrigerator, you must consider direct cool and frost-free models. The direct cool refrigerator draws cold air from outside the unit and circulates it throughout. This makes them ideal for small spaces or off-grid living since they require no electricity.
Larger frost-free refrigerators are less energy efficient because they draw power from a standard outlet. Additionally, if you plan on storing large amounts of food items in your fridge, direct cooling may not be suitable because it can only hold a limited amount of food at once.
For those who want the convenience of a full-size fridge but don't have room for one in their tiny homes, mini-fridges fit easily onto kitchen countertops without taking up too much space.
Many different sizes and capacities are available, so consider how much storage capacity you need before committing to any purchase. With some research and careful consideration – plus maybe consulting some fellow tiny homeowners – you can find the perfect-sized tiny home refrigerator that will meet all your needs!
Size And Capacity
When choosing a tiny home refrigerator, size and capacity are significant considerations. While the compact fridge debate may be ongoing, those looking for maximum storage space will likely opt for one of two types – cubic feet fridges or full-size fridges.
If you live in an off-grid house with propane refrigerators, standard-size fridges won't work. French door fridges offer more interior room than traditional single-door models but take up much less floor space due to their slim design. It's important to pay attention to the overall size of the fridge, including its depth, width, and height – ensuring your chosen model fits whatever layout you have planned for your tiny home.
With careful consideration of all these factors, you can ensure that the right-sized fridge is selected – one that best meets your needs while not taking up too much valuable space.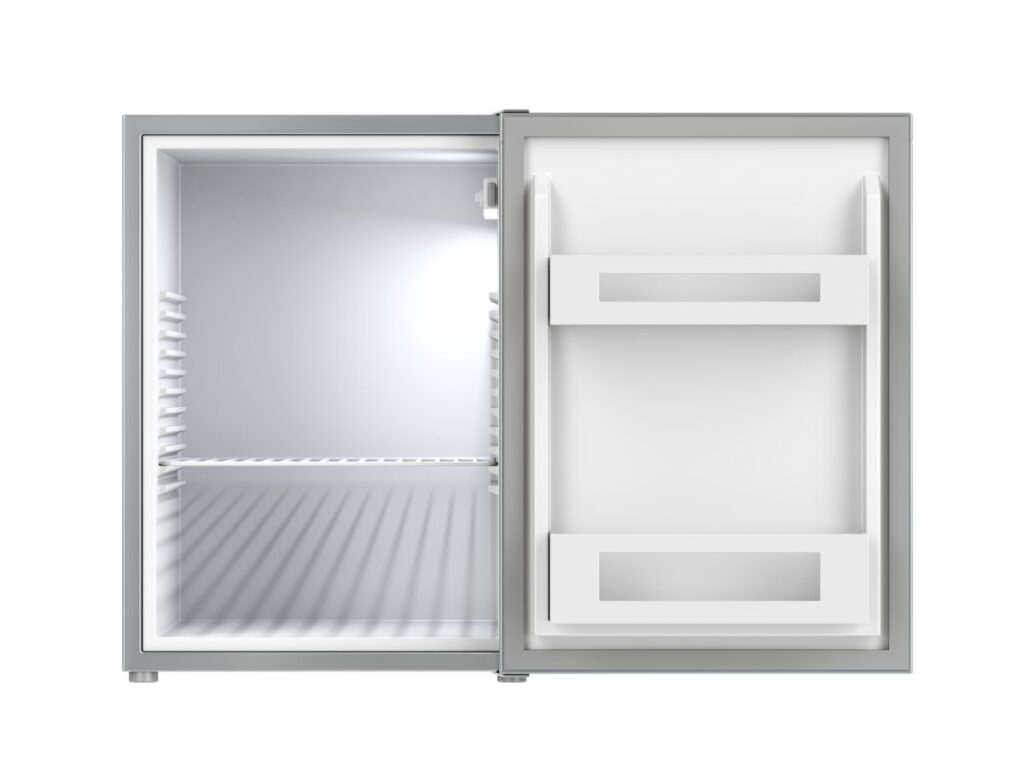 Placement In Your Tiny Home
Once you have determined the size and capacity of your tiny home refrigerator, it is time to consider placement options. Where will you put this magnificent workhorse?
It's important to note that some electric units require an outlet while others may need a gas hookup to operate properly. When picking out a spot inside your abode, ensure enough clearance around the fridge so air can circulate freely and no heat buildup occurs during operation.
Assess whether or not any additional space appliances, such as microwaves, should be installed near the refrigerator – according to energy efficiency standards, they should always be placed at least two feet away from each other for optimal performance results.
These simple steps will help you quickly determine the perfect location for placing your miniature fridge.
Features You May Want
When choosing a tiny home refrigerator, there are lots of options. Deciding what features you want in your fridge can be overwhelming.
If cold temperatures are important to you, consider gas absorption refrigerators, as they tend to cool faster and stay colder longer than other models. On the other hand, house refrigerator ideas such as counter depth models or fully featured apartment fridges may be more suited for those looking for larger fridges with additional compartments and drawers.
Additionally, some smaller models have vents that allow air to circulate throughout the unit, creating an even temperature.
No matter what type of fridge you're looking for, you must ensure that your needs are met with whatever model you choose.
Energy Efficiency For Tiny Home Fridges
Gas absorption models are an excellent option for mobile or space-conscious homes since they run on alternative power sources like propane and natural gas.
Compact models can also make great additions as they require less energy than other refrigerators.
For those who need more storage capacity, there are larger options available that remain efficient when compared to traditional-sized fridges. No matter which types you choose, consider how much food you'll need to store to determine if your choice will work best for your needs.
It's important to remember that certain features may impact the overall energy efficiency of any given model. Look for adjustable thermostats and automatic defrosting systems that help regulate temperature without consuming too much electricity.
You'll also want to take note of the insulation rating and compressor type before purchasing so you know exactly what kind of performance you're getting from your new appliance.
Regarding maintenance costs, always look at the availability of replacement parts before investing in a specific brand or model. Many companies offer extended warranties, which should not be relied upon alone.
Researching customer reviews and taking into account annual operating costs are just some of the ways one can ensure their investment ensures long-term savings. With this information in hand, consumers can make informed decisions about which fridge is suitable for them and their home environment while having peace of mind knowing they've chosen a reliable product with good energy efficiency ratings.
Availability Of Replacement Parts
When shopping for a tiny home refrigerator, remember to consider the availability of replacement parts. Fridge drawers, shelves and food processor bowls can break or need replacing over time. Without easily accessible spare parts, you may be left with an unusable fridge that cannot store frozen food or keep your products visible and fresh.
Noise Of The Refrigerator
When shopping for a tiny home refrigerator, the noise level is an important factor to consider. Apartment refrigerators are quite noisy as they are designed for multitasking and have multiple moving parts.
Propane refrigerators are much quieter than average electric fridges since no compressor exists.
Cubic foot fridges offer more room but also make more noise than a house fridge of comparable size. If having two separate fridges isn't realistic, opt for one large cube; it will keep your food routine organized while providing ample space for fresh and perishable foods.
Just remember that a larger fridge means louder noise levels when running! To ensure you pick the correct appliance without any unwanted sounds, test different models before buying to assess how loud each model runs.
Direct Cool Or Frost Free
Choosing the best tiny home refrigerator can be a daunting task. But, carefully considering factors like noise and type of cooling system, you can find a model that suits your needs perfectly. To make your selection process easier, let's explore two types of refrigeration systems: direct cool and frost free.
Direct cool refrigerators are economical for tiny homes as they require minimal installation costs. Suppliers of propane refrigerators often offer these models in various sizes to fit limited space constraints. A typical top-mount fridge is perfect for storing food and has room for freezer foods if desired. The downside to this standard unit is that they accumulate more ice than frost-free systems and occasionally need manual defrosting to keep them running smoothly.
Frost-free units are ideal for those who want little maintenance or worry about melting ice buildup inside their refrigerator. As the name suggests, these models automatically defrost themselves every few hours, so there's no need to manually scrape away any frozen water droplets – saving effort and energy!
Frost-free fridges come in different shapes and sizes, making it easy to find one that fits right into your tiny home kitchen area. However, since these appliances use more electricity than direct coolers, you may need higher-capacity power sources to run them effectively.
If portability isn't an issue, but convenience is key when selecting a tiny home refrigerator, consider investing in a frost-free model over its direct cooler counterpart. With fewer worries about regular maintenance and cleanup due to automatic defrosting capability, this option will save time and money while keeping food cold safely over long periods.
Bottom Freezer Refrigerators
Bottom freezer refrigerators are becoming increasingly popular in American homes due to their energy efficiency and space-saving benefits. They offer an excellent solution for those with limited access to power or looking for a refrigerator that won't break the bank.
Bottom freezers come in larger models than propane refrigerators, making them ideal for those who need more food storage. However, they can be difficult to install without professional help and take up slightly more room than top freezers.
Ultimately, bottom freezers provide a great option for tiny homeowners seeking an efficient way to store food and drinks while still having ample counter space. With smaller footprints than other refrigerators, these units allow you to maximize your living area without sacrificing functionality.
And because they don't require as much maintenance or upkeep as some of their larger counterparts, they're perfect for people who don't want to spend too much time on appliance care.
When choosing the best tiny home refrigerator, it's important to consider the size of your space and how much storage capacity you need now — and in the future. If you're dealing with limited resources but still want something functional and reliable, a bottom freezer model could be just what you're looking for.
Should You Get A Mini-Refrigerator?
Mini refrigerators are ideal if you want something that takes up little space in your tiny home but still provides ample room for storing food items like drinks, snacks and leftovers.
They also come with adjustable shelves so you can customize them according to the size of your groceries and other needs.
Choosing The Best Tiny Home Refrigerator For Your Space
The key to selecting the right tiny home refrigerator is weighing all the factors carefully: from its energy efficiency rating to its price tag, consider all the things we have gone over before deciding which one would be best for you.
Frequently Asked Questions
What Is The Average Life Span Of A Tiny Home Refrigerator?
Generally speaking, a well-maintained mini fridge should last an average of 8-13 years. If the unit isn't maintained correctly, this number may be significantly lower due to wear and tear caused by frequent use. Environmental conditions also impact a tiny home refrigerator's lifetime performance. Extreme heat or cold temperatures can damage components inside the fridge and reduce energy efficiency over time.
What Are Some Tips For Maintaining A Tiny Home Refrigerator?
First and foremost, regularly clean the condenser coils on the back or bottom of the fridge. Empty any old food before they spoil, as this can strain the cooling system and lead to other problems like odor buildup. Check if there are any worn parts or seals that need replacing; this could be indicative of more significant issues down the road if not addressed promptly.
Are There Any Safety Precautions I Should Take When Using A Tiny Home Refrigerator?
Ensure your fridge is placed correctly away from heat sources or direct sunlight. This will help keep the temperature inside even and prevent food spoilage. Be aware of any flammable materials near the fridge. Keep an eye on the wiring connected to your mini-fridge. Any exposed wires should be taped up securely with electrical tape – this helps prevent fires caused by loose connections or faulty wiring. It's also important to check the seal around your door regularly as a faulty seal can lead to warm air entering the unit and cause food spoilage over time